Sinetrol®* - eine Technologie zum Fettverbrennen?
Wenn Du Deinen Körper "in Shape" bringen und Deinem Stoffwechsel auf die Sprünge helfen möchtest, dann könnte der Wirkstoff Sinetrol®* für Dich interessant sein.
Körperfett und was Du wissen musst
Auch, wenn viele es als lästige Pölsterchen bezeichnen: Das Fettgewebe ist ein wichtiger Energiespeicher und essenziell für den Körper. Je nach Gewicht, Alter oder Lebensstil benötigst Du aber nur eine bestimmte Menge an Energie. Wird über diese Menge hinaus mehr Energie aufgenommen, lagert der Körper den Überschuss in Form von Körperfett im Fettgewebe ein. Die mögliche Folge: Eine Beeinträchtigung des Wohlbefindens und Gewichtszunahme.
Also Ladies und Gentlemen, es hilft nichts – das Fett muss weg. Aber wie? Am besten mit einer Kombination aus körperlicher Bewegung und einer gesunden Ernährung. Bewährt hat sich hier die Mittelmeer Diät. Viele ernährungstechnische, aus dem Mittelmeerraum bekannte Bestanteile dieser Diät sind bekannt dafür, positiven Einfluss auf das Gewichtsmanagement nehmen zu können. Warum also das Ganze nicht nutzen, um sich nicht immer nur von Diät zu Diät zu hangeln? Die Challenge dabei: Einen Wirkstoff zu entwickeln, der diese Komponenten vereint. Wundermittel gibt es nicht, aber es gibt Sinetrol®*, ein mediterraner, Zitrusfrucht-basierter Inhaltsstoff. Bist Du einmal auf dem richtigen (Abnehm-)Weg, kann Dich Sinetrol®* unterstützen.
Studienlage und Wirkung
Du möchtest wissen, wie? Dann Laborkittel angezogen und Klemmbrett gezückt, jetzt wird's wissenschaftlich: Die aktiven Inhaltsstoffe von Sinetrol®* erleichtern den Fettabbau durch eine Steigerung der Lipolyse. Das bedeutet einfach, dass der Wirkstoff die Freisetzung von Fettsäuren aus den Fettzellen auf natürliche Weise fördert. Gleichzeitig verbessert enthaltenes Niagrin (ein Bitterstoff aus der Grapefruit) die Nutzung dieser nun freien Fettsäuren als Energiequelle: Fett wird als "Brennstoff" verwertet und nicht gespeichert. 
Zusätzlich wird die Thermogenese im Körper unterstützt: Dabei wird Energie in Wärme umgewandelt und abgegeben, sodass sie vom Körper nicht mehr genutzt werden kann. Die Folge: Der Energiebedarf steigt und das Kaloriendefizit wird unterstützt, was wiederum dazu führt, dass vermehrt Fett zur Energiegewinnung dient. Zudem können Bitterstoffe einen appetithemmenden Effekt haben und Heisshungerattacken reduzieren.
Durch den erhöhten Metabolismus und Ruheenergieverbrauch konnten Studienteilnehmende einen Gewichtsverlust verzeichnen. Dieser äußerte sich vor allem in einem reduzierten Körperfettanteil. Beim Großteil des verlorenen Körperfetts handelt es sich dabei um Bauchfett. Bis zu 5cm weniger an Taillen- und Hüftumfang wurden gemessen. Das hilft Dir dabei, Deinen Körper in Form zu bringen!
Studien des Herstellers haben herausgefunden, dass Sinetrol®* nicht nur Fett verbrennt**, sondern gleichzeitig die fettfreie Masse (aka Muskeln) im Körper erhöht. Das hilft Dir, Dein Training noch effektiver zu gestalten - was wiederum beim Fett verbrennen hilft. Plus: Muskeln verbrauchen auch noch mehr Energie im Ruhezustand, was Deiner Fettverbrennung ebenfalls zugutekommt. Was war nochmal das Gegenteil von Teufelskreis?
Aber wir sind hier noch nicht fertig. Denn Sinetrol®* punktet auch langfristig – tschüss Jo-Jo-Effekt! Auch nach Ende der Sinetrol®*-Zufuhr verloren die Probanden weiter an Gewicht und Körperfett.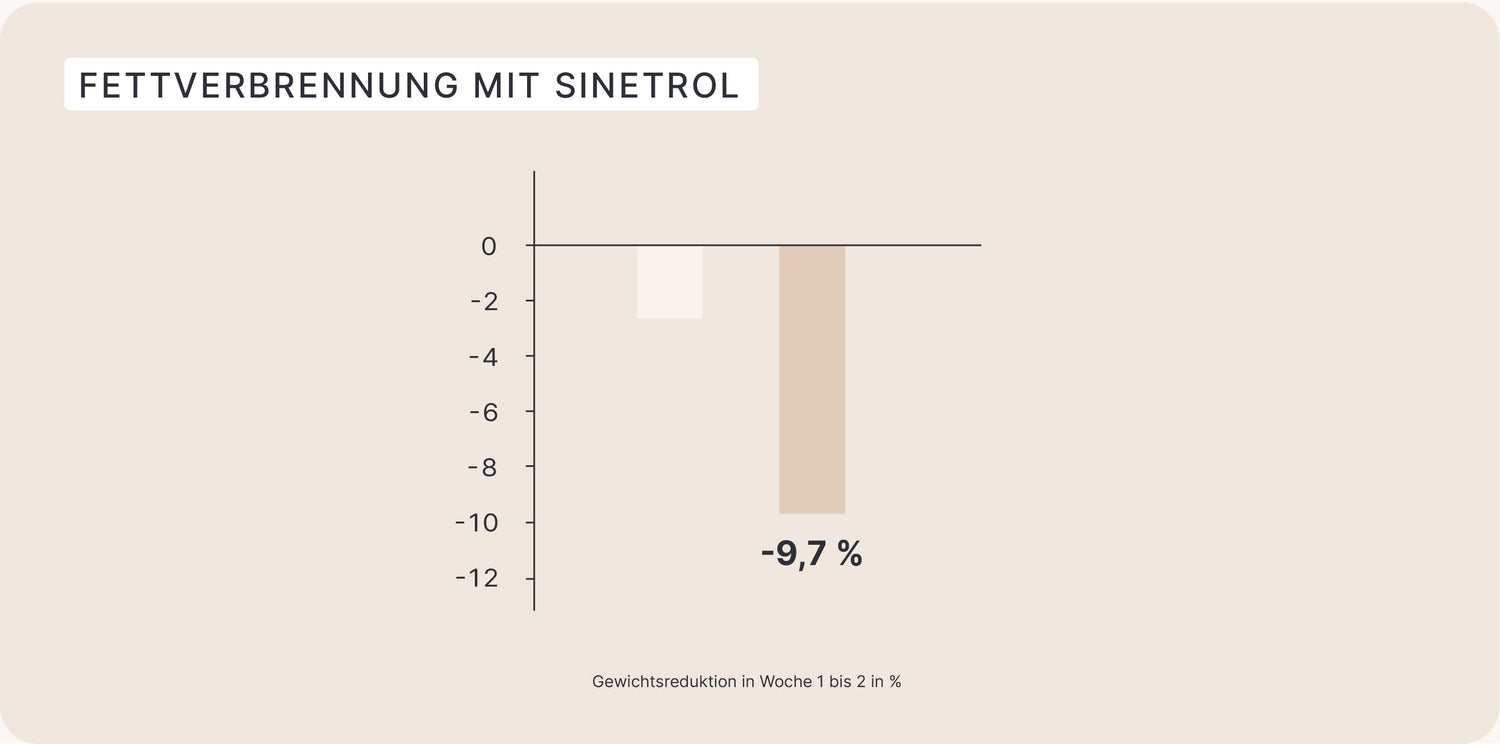 Anwendung
Wir haben uns an den positiven Effekten von Sinetrol®* bedient und präsentieren den SHEKO Fett Burner. Die Formulierung wird durch Guaranaextrakt unterstützt, der zusätzlich die Fettverbrennung stärkt.** Zink und Chrom verleihen unserer Rezeptur den letzten Schliff, indem sie den normalen Stoffwechsel der Makro-Nährstoffe unterstützen.
Unser Fett Burner ist dennoch kein Zaubermittel. Du musst auch selbst aktiv werden! Wenn Du Dich aber ausgewogen und kalorienbewusst ernährst sowie regelmäßig Sport treibst, kannst Du so Dein Gewichtsmanagement unterstützen.
Fazit
Klinische Untersuchungen haben ergeben, dass Sinetrol®* den Ruhenergieverbrauch erhöht, Körperfett reduziert und sich positiv auf den Gewichtsverlust auswirkt**. Wenn Du Deine Fettverbrennung also unterstützen möchtest, ist dieser Wirkstoff eine gute Wahl. Achte aber bitte darauf, Dich an die Herstellerangaben zu halten und trotzdem einen gesunden Lebensstil zu führen.
FAQ
Sollten Dir noch Fragen unter den Fingernägeln brennen, kommen hier unsere Fragen und Antworten.
Bewegung ist für Deine Gesundheit sehr wichtig. Wir empfehlen, auch weiterhin Sport zu treiben, um Deine Ziele bestmöglich erreichen zu können.
Der Wirkstoff kann Dir dabei helfen, Deine Abnehm-Ziele bei Übergewicht zu erreichen. Die Verbrennung von Körperfett, vor allem am Bauch wird verbranntund darum verlierst Du an Gewicht.
* Sinetrol® ist ein patentierter Citrusfrucht- und Guaranaextrakt und eine eingetragene Marke von Fytexia.
**Das Zulassungsverfahren für diese gesundheitsbezogenen Aussagen ist noch nicht abgeschlossen.
You might also like this
Sale price

18,70 €

Regular price

24,95 €

Unit price

64,48 €

per

100g

Sale price

14,95 €

Regular price

19,95 €

Unit price

7,48 €

per

g

Sale price

14,95 €

Regular price

19,95 €

Unit price

71,19 €

per

100g
Your cart
You might also like this
Sale price

18,70 €

Regular price

24,95 €

Unit price

64,48 €

per

100g

Sale price

14,95 €

Regular price

19,95 €

Unit price

7,48 €

per

g

Sale price

14,95 €

Regular price

19,95 €

Unit price

71,19 €

per

100g
Psst.. You can enter your discount code in the order overview of the check-out
Choosing a selection results in a full page refresh.
Opens in a new window.